NAD+ – Can this Tiny Molecule Repair DNA and prevent Aging?
A team at Harvard discovered a naturally occuring, safe molecule that, when given to mice, actually made their grey hair turn back to it's natural color (among other incredible discoveries!).
David Sinclair, Ph.D., founder of the Sinclair Lab at the Harvard Medical School has become known as "The King of NAD+."  Many people haven't heard of NAD+ (Nicotinamide Adenine Dinucleotide) but it is extremely important. It's a coenzyme found in every cell in our bodies.  Scientists are researching NAD+ today because we are all hoping that they will tell us how to live longer, healthier, and with our brains continuing to work optimally.  Dr. Sinclair is one of those scientists you need to know because he is doing the difficult research on our fundamental biological processes – what are they and how are they affecting our lives and particularly how we age.
Dr. Sinclair is a Professor in the Department of Genetics and co-Director of the Paul F. Glenn Center for Biology of Aging Research at Harvard. Multiple scientific studies show that NAD+ levels decline with age and are a factor in many age-related diseases. NAD+ is essential in human metabolism and in DNA repair and has the potential for antiviral and immunity-boosting properties as well.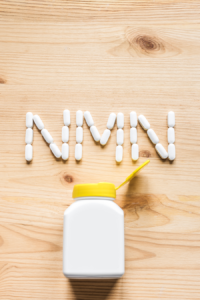 The lab has shown that the pace of aging is not inevitable or predetermined but instead can be reversed and slowed down by a variety of tactics – for example, by activating the body's defenses against aging, deleting aging cells, and reprogramming them. They are finding ways to protect the body against and treat rare and common diseases, including mitochondrial disorders, type 2 diabetes, Alzheimer's disease, cardiovascular disease, and cancer.
In 2013, the team at Harvard successfully showed that aspects of the aging process might be reversible.
They treated old mice with NMN, a direct precursor supplement to NAD+. After only ten days of treatment, critical biological markers used to measure the aging process resembled those of much younger mice. It was the human equivalent of a 60-year-old, with some physical aspects reversed to resemble those of a 20-year-old. (Read the article at Harvard Medical School "A New and Reversible Cause of Aging.") https://hms.harvard.edu/news/new-reversible-cause-aging ). These mice even reverted back from having grey hair to their natural hair color!  
We have specific "longevity genes" called SIRTUINS. These genes stimulate the repair of broken DNA strands that support healthy aging. In addition, NMN and other NAD+ precursor supplements, help encourage healthy metabolism, which gives us more energy and endurance. The early mice studies demonstrated that NAD+ supplements may actually stimulate a healthy heart, eyes, brain, bones, immune function, blood flow, and muscle performance!!
Today, everyone can successfully take the supplement, NMN, and other supplements that have recently come on the market to supply NAD+. These supplements will help support healthy aging and let you live a much more satisfying, healthy, and enjoyable life. Unfortunately, NAD+ declines as you age, so you need to think about how you can obtain and administer the precursor supplements.
Patients can get NMN from Dr. Adrian de la Torre at DrTen20 in Dana Point, California, when they get one of many different age busting/immunity boosting infusions provided by IV at the Med Spa. These infusions will bathe your cells with NMN & other supplements that have been especially well received by patients that are post "COVID" or recovering from other medical issues.  Check out DrTen20 for infusions and many more of the most recent advances in age-reducing services and NAD+ supplements.  For a complimentary appointment at DrTen20 call: 949.489.1317.
https://sinclair.hms.harvard.edu/research
This Infusion drip contains a wide array of nourishing vitamins, minerals and antioxidants that your body is craving PLUS the latest Antiaging supplement NMN recently studied by Harvard Medical School (the amazing & safe new anti-aging supplement that boosts your NAD+ levels and turns back the aging clock!) as well as Vitamin C, Biotin, Lysine and Glutathione, that smooth, plump, lighten and clarify your skin with results you can see within days.