A Personal Stem Cell Experience
This is an amazing story about Stem Cell Treatments for chronic pain patients.
Let me start at the beginning: I had several herniated disks in my lower back and was in chronic pain 24/7. To top it off, I woke up one April morning with sciatica pain from hell that started in my back and left buttock and extended all the way down my left leg to my ankle. I could barely make it to the bathroom, let alone get out of bed.  I am not exaggerating to say that this sciatica lasted every day through April, May, June, July and into August.  I thought I was either going to lose my leg or wrestle all of my courage to jump off a cliff!
I tried everything.  There were a lot of YouTube videos about exercises that would release the Piriformis Muscle (a muscle that sits behind the Sciatic Nerve and often makes Sciatica worse when the muscle constricts). And with the millions of people that had watched those videos, I knew that Sciatica was a problem affecting as many (or even more) people.  I tried the exercises that only helped just slightly.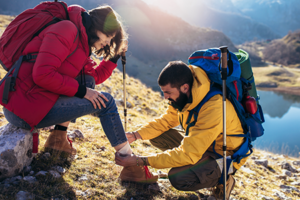 Sciatica is nerve pain that can happen to anyone at almost any time. Although it usually goes away on its own, there are times (such as mine) when it hangs on forever and requires a more hardline approach. Some doctors recommend more aggressive treatments, possibly a nerve block or epidural steroid shots (referred to as Interventional Procedures), or other surgery.
I tried Physical Therapy, but the cost was too high when measured against the results I was getting. I also tried the Nerve Blocks and Epidural Steroids, but those results were sketchy as well and after an event where my doctor injected something directly into a nerve in my foot, I felt that there had to be a better more consistent, permanent treatment.
Eventually, I found out about Stem Cell Therapy, often referred to as Regenerative Medicine. Stem Cell Therapy is the "miracle-like" cutting edge medical treatment that focuses on the primary source of pain without the need for medications or surgeries, providing patients with fast improvement of function and mobility.
Stem Cells work for so many problems because they can differentiate between the different types of cells in the body to target those areas for repair. Stem Cells are literally the building blocks of the human body, that build all of the organs and tissues that every newborn baby needs and that each adult can use to help repair diseased or damaged parts of the body. Stem Cell Therapy is being used to control pain for Arthritis, Disk problems, Sciatic and even to grow hair and so much more. DrTen20, the Anti-aging Med Spa in Dana Point, CA, will be giving online webinars in 2022 to explain the procedure and to answer questions to anyone that may be interested.
I quickly realized that Stem Cell therapy might be the answer for me – and I'm so happy to report that it was!!  I signed up with at DrTen20 in Dana Point, CA and the procedure was really quite simple (much more so than the "minimally invasive" options that had previously been suggested to me by a number of doctors and clinicians).  I was awake throughout the treatment and I really only felt a couple of small skin pricks in my lower back.  The doctor gave me both stem cells and blood plasma (which is also effective in helping to cure muscle spasms and sciatica pain).
I am happy to report that within only a few days my sciatica was almost completely gone and within a week or two it had completely subsided.  It was the best thing I ever did and by far the best money I've ever spent.  I lost so much of my life to that terrible condition and I only wish I had known about Stem Cell Therapy much sooner.
Do yourself a favor and look up the stem cell therapy in your area to see what they can accomplish for you or if you're in Orange County contact Dr. Adrian de la Torre at DrTen20 for an initial consultation at . 949.489.1317